Oro Valley Public Library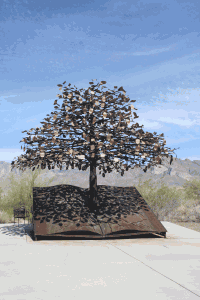 The Oro Valley Library is located at 1305 West Naranja Drive in Oro Valley, just on the corner of Naranja and La Canada. This beautiful library has the backdrop of the Catalina Mountains, and patrons are greeted at the entrance by a breathtaking bronze sculpture by Joe A. Tyler entitled "The Tree Of Knowledge".
Inside, visitors will find an array of other art displayed throughout the library. But this library is not all for looks- the Oro Valley library has a vast collection of books and multimedia. Whether you are searching for books on finance, how to make coconut cream pie, learn about the Tudor period in Britain or change out a car engine- this place has you covered. Want to listen to some of the best operas? Borrow the CD. Heard "Dexter" is a good TV show? Catch up on past seasons by borrowing the DVDs. The Oro Valley library is truly a sanctuary to regroup and spend some time edifying yourself.
In addition to the standard library fare, the Oro Valley Library offers two meeting rooms (one that accommodates up to 100 people) all sorts of different youth programs, "Meet the Author" events, a Arizona Job Assistance Center Workstation, a summer reading program, and a rotating art exhibit. Join one of the many book clubs or discussion groups, take a computer class, or join a game club for a weekly game of chess, bridge, Majong or Scrabble. Sign up for business counseling, learn tips from presentations by Pima County Master gardeners, and volunteer in the Friends of the Library Book Shoppe (inside the library, but the Friends of the Oro Valley Public Library also recently opened "Book Shoppe Too!" located at Canada Crossings on the southwest corner of La Canada and Lambert). Separate rooms include the "Children's Room" (Bright and airy, with a large selection of books for kids and space to learn and engage with other kids) and the "Teen Zone" (Computers, several different areas to study, comfy spaces to lunge and "get your read on").
Another really interesting and unique section of the library was introduced to me by friendly and knowledgeable librarian Mary Kim Dodson. With the assistance a few others, she has worked tirelessly to create a section entitled "The Oro Valley Collection: Prehistory, History, and Culture of Southern Arizona". The notable collection is quite varied, and I am certain that you will find some fascinating information just as I did. This collection was made possible by a partnership through the Oro Valley Historical Society and the Oro Valley Public Library, and with support from the Arizona State Library and the Institute of Museum and Library Services.
Need even more, or unable to stop into the library to gather information for your next research project or big paper? Using your own computer, a massive online database/resource is waiting to be tapped with everything from magazines to legal journals and educational volumes. All this is available by just logging in and using your library card- access from anywhere.
---
---
*Beginning January, 2013 the Oro Valley Library will become a branch location of the Pima County Library system instead of just an affiliate. Bonuses to this change will be extended hours (open on Sunday as well), and the upgrading of the public use computers.
---
Library Hours
Monday 9 a.m. – 7 p.m.
Tuesday 9 a.m. – 7 p.m.
Wednesday 9 a.m. – 7 p.m.
Thursday 9 a.m. – 7 p.m.
Friday 10 a.m. – 5 p.m.
Saturday 9 a.m. – 5 p.m.
Sunday 1 p.m. – 5 p.m.
Teen Zone Hours
Monday Noon – 5 p.m.
Tuesday Noon – 8 p.m.
Wednesday 9 a.m. – 5 p.m.
Thursday Noon – 8 p.m.
Friday 9 a.m. – 5 p.m.
Saturday 9 a.m. – 5 p.m.
Sunday