Parks
Although there are several town owned parks in the area (Canada Del Oro River Front Park, James D. Kriegh Park, and Catalina State Park just moments away), Rancho Vistoso is no slouch in the parks department! You can choose from nine parks featuring a variety of different amenities, all located in the master planned community of Rancho Vistoso.
*At the request of the HOA – "Parks are private for the use and enjoyment of Rancho Vistoso Residents only."
Playground equipment, benches and a water fountain. Located at the corner of Vistoso Village Drive and Big View Drive.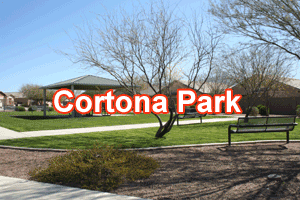 Benches, BBQ and a ramada. Lovely green space for a picnic! Located at N. Garlenda Way and W. Vinova Pass (there are 2 sides to W. Vinova Pass… this is actually the WEST one. Refer to the map).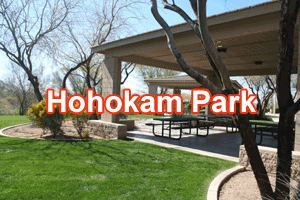 Very large park which includes an enclosed dog park, playground equipment, tennis, volleyball and basketball courts. You can see gorgeous views of the mountains from almost every area at Hohokam Park. There are trails for walking and biking, as well as three armadas and barbeque for grilling. Shaded spaces and lots of green grass make for a comfortable lazy afternoon. This park also offers restroom facilities, so you can spend hours enjoying all this park has to offer! Hohokam Park is located off of West Desert Fairways Drive just east of N. Desert Olive Drive.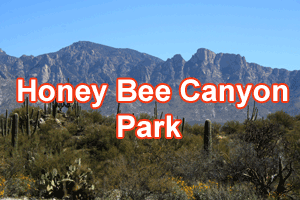 This park could also be named Saguaro heaven!! Honey Bee Park is owned and maintained by Pima County, but it is right in the area at 13380 N. Rancho Vistoso Boulevard. Honey Bee Park offers beautiful trails, unbelievable panoramic mountain and valley views, several ramadas for gathering, access to drinking water and restrooms.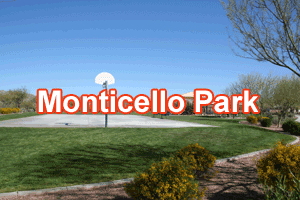 Monticello Park is a great place to shoot some hoops and unwind. In addition to the basketball court, there is playground equipment, a ramada, picnic benches and BBQ grills. Located on Barlassina Drive and Tierrema Way.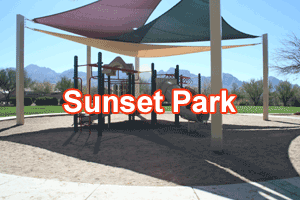 Sunset Park is accessible by walking to the end of Woodshade Linear Trail off Rancho Vistoso Blvd., or via several side streets. (Moore Road to Eagleview Drive or Woodburne Avenue to Klinger Canyon Drive) Sunset Park offers volleyball and basketball courts, playground equipment, picnic tables and barbeques. This park is just gorgeous, and boasts a rolling hill covered with gorgeous green grass, shade trees and mountain views.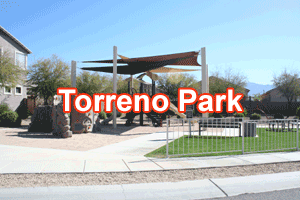 To access Torreno Park take Moore Road to Tarzana and turn left on Bloomington Loop. This is a small park with playground equipment and benches.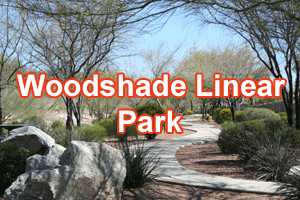 Woodshade Linear Park
This is more of a "trail" than a "park" but we are including it as it is really a lovely place to enjoy. The trailhead is located between Vistoso Village and Sanmaniego Ridge streets off of Rancho Vistoso Blvd. This shaded trail (Mesquite and Palo Verde trees line the paths) has cement paths from beginning to end, and borders a riparian area which offers the walker lots of opportunities for wildlife viewing. At the end of the trail you will arrive at Sunset Park. The paved trail ends at Hidden Springs Drive, but if you like you can continue on for about a quarter of a mile through the desert (watch for snakes during prime season!) on an unpaved trail until you reach Hohokam Park.
Wildlife Ridge Park

A baseball diamond, basketball and volleyball courts, large playground equipment, a ramada, picnic tables and barbeques can all be found at Wildlife Ridge Park, in addition to loads of green space, trails and spectacular mountain views. This park has restroom facilities.
Somerset Canyon
Another great little area with children's playground equipment, a ramada, picnic tables and BBQ grills.

– icon denotes a Publisher Top Pick!
Park Rules
The parks are generally open from sunrise until 10 PM. No glass containers are allowed at any of the parks, as well as no alcohol. Vandalism is strictly forbidden, and if you see it, report it. There are rewards offered for vandals who are apprehended. Please remove all debris and garbage to keep these lovely parks clean for all to enjoy, and that includes pet waste! No dogs are allowed off leash at any time, and children under the age of six MUST be accompanied by an adult. Enjoy your time at the Rancho Vistoso parks!!
Other nearby recreational areas include Catalina State Park (11570 N. Oracle Road) , Canada De Oro Riverfront Park (551 W. Lambert Lane, park hours from 6:00 a.m. – 10:00 p.m.) , James D. Kriegh Park (23 W. Calle Concordia, park hours from 6:00 a.m. – 10:00 p.m.) and Tohono Chul Park (7366 N. Paseo del Norte, renowned Botanical Park that has admission fee, several amazing events throughout the year). Further resources on Western National parks can be found at Western National Parks Association, 12880 N Vistoso Village Drive, Oro Valley, AZ, 85755 (520) 622-1999. Their website is www.wnpa.org.