Bub's Grub
A mere 7 minutes away from Rancho Vistoso in the town of Catalina. Bubb's offers some super good ole' BBQ, and the sides are scrumptious. I can't get out of there without having some mac & cheese! Casual atmosphere- no need to dress up.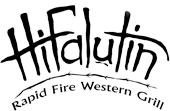 Hifalutin Western Grill
Top-Pick-IconWithout fail, every time my mom visits from San Diego she wants to go to Hifalutin for dinner. I am not certain if it is the food or the cozy ambiance with it's rich mesquite aroma and heavy western style furniture- but both aspects are pretty great. Try the ribs if you are a rib person- delicious!
Can you say RIBS?? Hifalutin has the best ribs we have ever had in our lives, and the little blue corn muffins they serve upon your arrival are delicious. If you have out of town guests that want a Western dinner with killer ambiance, get over there STAT. It even smells like smoky juniper and mesquite in there!