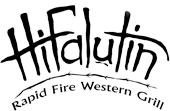 Hifalutin Western Grill
Without fail, every time my mom visits from San Diego she wants to go to Hifalutin for dinner. I am not certain if it is the food or the cozy ambiance with it's rich mesquite aroma and heavy western style furniture- but both aspects are pretty great. Try the ribs if you are a rib person- delicious!
Can you say RIBS?? Hifalutin has the best ribs we have ever had in our lives, and the little blue corn muffins they serve upon your arrival are delicious. If you have out of town guests that want a Western dinner with killer ambiance, get over there STAT. It even smells like smoky juniper and mesquite in there!

The Keg Steakhouse & Bar
– at Oro Valley Marketplace
Pricier than Hifalutin, but not as casual either. An overall great chain higher end steakhouse. The Keg also features a nice bar with a great happy hour. Perfect for a birthday or dinner with clients.