Road Biking Nirvana!
Road Biking Nirvana! Cycling Rancho Vistoso and Oro Valley, Arizona
Cycling Rancho Vistoso and Oro Valley, Arizona
Jack Hanratty -BikeAZ.org The Arizona Bicycle Association
Whether you are just visiting or looking to relocate, the Rancho Vistoso area in Oro Valley is a road biking paradise. Blessed with more than 80 miles of bike lanes and paths, Oro Valley is has garnered great acclaim as a cycling mecca. Oro Valley cyclists love the safety of the city's well­ thought out bike paths and lanes. And, yes, there is nothing like biking amidst the desert scenery and the backdrop of the Catalinas. Road Biking Oro Valley – Southern Arizona's Road Biking Paradise Road biking aficionados rave about our wide streets, breathtaking views of the Catalinas, desert scenery and friendly people. "If you are looking for an ideal road biking community to visit or retire, Oro Valley, Arizona has to be at the top of your list," says Kirby Rodriguez, retired Air Force veteran and editor for BikeAZ.org, the official publication for The Arizona Bicycle Association. "The Vistoso area of Oro Valley is a center point for great, safe cycling with an ideal climate. We have it all. You can start here, stay close by and enjoy great bike lanes and paths or you can venture on long haul rides, heading out to east to Mount Lemmon, riding fantastic black top with safe bike lanes."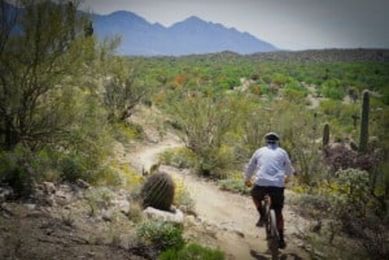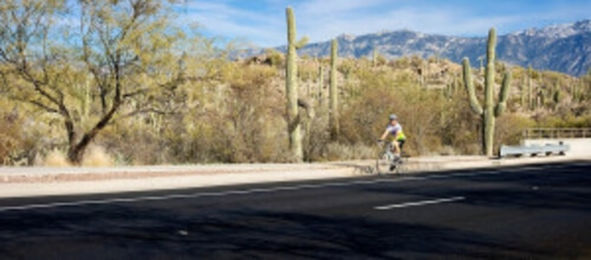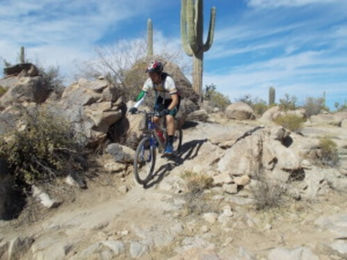 The Best Cycling Rides in Oro Valley
Cody Loop of Oro Valley
Great 15 Mile Loop The Vistoso Loop is a 15 mile road bike ride on pristine bike lanes that give you fantastic desert, mountain and golf course views. Bike this and you will ascend 500 ft with a maximum elevation of 2,987 feet. This is a relatively easy ride for most cyclists, but you will burn some calories. Added Rodriquez, "Riding Vistoso Loop at sunrise or sunset is a great time to enjoy the incredible views of the Catalinas."
Vistoso Loop of Oro Valley
Semi-­rigorous, fun ride. The road bike ride called Cody Loop is a popular ride among cyclists who live on the northwest side of Tucson and Oro Valley, Arizona. Once you get to the town of Oracle you take a right hand turn on American Ave to ride the loop know as "Cody Loop." Then you ride back to Tucson on highway 77. This is a fun and scenic ride, semi­-rigorous depending on where you start.
Cycling Saddlebrooke of Robson Communities
Clean roads and miles upon miles of perfect black top with wide bike lanes make Saddlebrooke one of the country's best and safest cycling routes for cycling enthusiasts. The Arizona Bicycle Association lauds Saddlebrooke as "one of the safest places for leisure cyclists". Of the best, safest places for leisure biking Oro Valley is often in the top 10 lists of many cycling magazines, but Saddlebrooke receives its share of acclaim for cycling.
The Robson Communities are designed as active adult communities. All of their communities are excellent places to enjoy some stress free leisure road cycling. Oro Valley is where The El Tour de Tucson starts. This cycling friendly town just north of Tuscon should be on your list as a great cycling vacation or place to relocate.
Oro Valley Bicycle Rentals and Delivery
BikeTucson.com rents and delivers road, mountain, hybrid and kids bikes to all of Oro Valley, Tucson and Green Valley. They are the only bicycle rental company currently serving Oro Valley. They rent Tucson's largest fleet of of bikes, including carbon road bikes and full suspension mountain bikes. They also do half and full day road and mountain bike tours.
Road and Mountain Biking Media Resources
Arizona Bicycle Association (bikeaz.org) The Arizona Bicycle Association is the official road and mountain biking association for the state of Arizona. Visit BikeAZ.org for a thorough, updated list of all mountain bike trails, suggested road bike rides and more.
Cycling writer Jack Hanratty of BikeAZ.org, the official media portal for The Arizona Bicycle Association contributed to this article. Jason "The Bike Bandit" Kirk, mountain bike guide for Tucson Bike Rentals and Tours at tucsonbikerentals.org also contributed to this story.
Mountain Biking the Oro Valley Area
By Thomas Kanspedos The Arizona Bicycle Association
While Oro Valley is more known for it's 80 plus miles of bike paths and wide open bike lanes, this growing town north of Tucson also has a great reputation as a mountain biking haven. Oro Valley, in combination with the entire Tucson Metro area, is one of greatest road and mountain biking destination in the world. Breath taking scenery, 40 plus mountain bike trails, wide bike lanes, unlimited sun and a dry climate give Oro Valley and Tucson the edge for those who like skinny or wide tires!
Oro Valley is winning tremendous acclaim for mountain biking "groovers" for fantastic trails that appeal from the novice to the advanced. "If you are into both mountain and road biking, Oro Valley is the choice spot in the Tucson area,"says Kirby Rodriquez, editor for BikeAZ.org , the publication of The Arizona Bicycle Association. "We have immaculate mountain bike trails that will thrill bikers of all level."
For those of you who are in great shape, Epic Rides puts on an event in Tucson called 24 Hours in the Old Pueblo bike race.
For video, maps and directions go to:
Riders from all over the world come to shred some dirt at this "epic" event. You can too or just pick how long you want to ride and try some of these great trails. Great Oro Valley Mountain Biking "at a glance".
Honeybee Canyon is one of the easiest and most splendid rides mountain bikers can enjoy in all of Arizona. Many us consider this to be THE most scenic ride to mountain bike. It is relatively flat, some jeep trail, dirt road, asphalt, and single track. You will see petroglyphs, cattle, open range, windmills, and part of Rancho Vistoso. But if you want to make this an all­ day event, Honeybee/Rail X is just a small part of the entire Tortolita trail system.
This is one of the best places to take a beginning rider. The trail is very well­ manicured. "I take groups who have first time mountain bikers to the very advanced," said Jason Kirk, tour guide for BikeTucson.com. "You can never get tired of this trail. You will want to stop constantly to take pictures."
Directions to Honeybee Canyon: Take Oracle Rd. north from Ina about 7 miles to Rancho Vistoso Blvd., go left (west) 3.1 miles to a very nice parking area on your left. When you get onyour bike go to your right (east) out of the parking lot 0.6 miles to Quiet Rain and go north about 200 yards to a short, paved, uphill section to the power line road. You are now on the trail.
For more video, maps and information and video, go to:
Honeybee Canyon is fantastic fun for mountain bikers and hikers alike!
Golder Ranch ­ 50 Year Trail
Golder Ranch and the 50 Year Trail offers mountain bikers a really fast, fun trail with some technical challenges.
Located north of Oro Valley in Catalina, Arizona at the end of Golder Ranch Road. This is certainly one of the nicest areas to ride. Plenty of good conditioned single track, some technical areas along with a whole bunch of beginner to intermediate rides. This area has something for everyone. This ride can be a fun short ride or an all day adventure. Riders start out with a two ­mile, introductory fun ride, up to 30­miles of killer climbs and technical challenges. Like Honeybee, the views of the Catalinas are incredible. Golder makes you feel like you are RIGHT next to it. If you park at the main trail head, you will need a State Land Permit. This trail head is the ideal location for beginners. 50 ­Year Trail: To start the popular loop, find the single track that starts just to the left, past the cattle guard. It is mostly flat, fast, and curvy.Eventually, you will come to a wide open area near another cattle guard. Stay straight to start the intermediate level riding, or take the Jeep road to the left to take the easy route to The Chutes. Hikers and equestrians use this trail.
Directions to Golder Ranch ­ 50 Year Trail: Located about 20 miles north or downtown Tucson, you will take Oracle Road to East Golder Ranch Road, hang a right and follow the road east 3.7 miles until it turns to dirt. The trail head is a dirt lot just short of a cattle guard. Once on your bike, cross the cattle guard and pick up the single track of the other side of the road and head north.
For video, maps and directions go to:
Get in shape and grab a mountain bike and check out these great mountain biking opportunities in Oro Valley. Tucson Bike Tours and Rentals (tucsonbikerentals.org) rents and delivers road, mountain, hybrid and kids bikes to anywhere in Oro Valley and the Tucson/Green Valley area. They also do daily half and full day bike tours.
Thomas Kanspedos is an editor for BikeAZ.org, the media portal for The Arizona Bicycle Association. Jason "The Bike Bandit" Kirk is a private mountain bike tour guide for BikeTucson.com. He contributed to this article.